5 Dreamy All-Inclusive Resorts You Have to Experience
Reviews
Take the stress out of planning your next luxury getaway with an all-inclusive resort experience. All-inclusive resorts provide top-rated accommodations with generous amenities, unlimited fine dining and drink options, and activities to keep you engaged on land or at sea, from morning until night.

With both family-friendly locales and adults-only spots, there's something for everyone with these 5 dreamy all-inclusive resorts to choose from.

1. CLUB MED RESORTS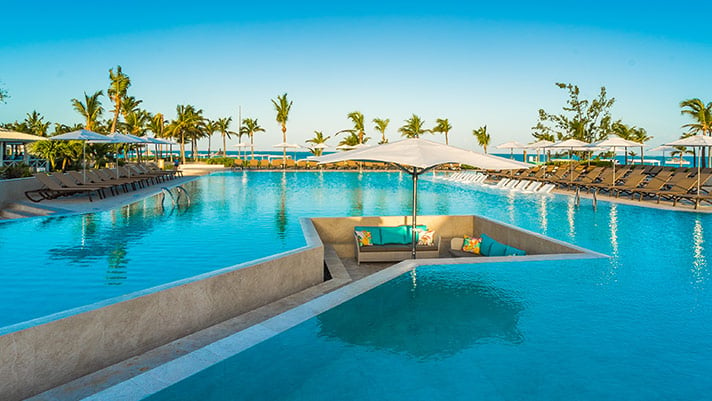 Club Med boasts a wide range of all-inclusive resorts, and many of them are designed with families in mind. At family-friendly locations, you'll find Children's Clubs for 4-month-olds to 17-year-olds. Plus, there are many activities to enjoy as a family, whether you want to swing above it all with a flying trapeze group class, learn a dance together, or swim as a family in one of the onsite pools.

Club Med's extensive properties are located around the world and range from your dreamy beach destinations in the Caribbean and Mexico to winter wonderlands in Canada and Europe. Each property is uniquely designed and offers plenty of large, open spaces to gather, socialize, and relax. Enjoy a variety of land and sea experiences to take in, including yoga, kayaking, and paddleboarding; or hit the powdery slopes for your winter sports activities.

For an adults-only resort experience, stay at the redesigned Club Med Turkoise in Turks & Caicos featuring a new pool, bar, and revamped contemporary Deluxe rooms that come with a furnished balcony and a spectacular sea view. Plus, there's an expansive 12-mile pristine beach to enjoy. From day to night, enjoy live entertainment, outdoor bars, and more. 

Discover your perfect Club Med Resort stay here and contact Avoya Travel for the best deal.

2. SANDALS RESORTS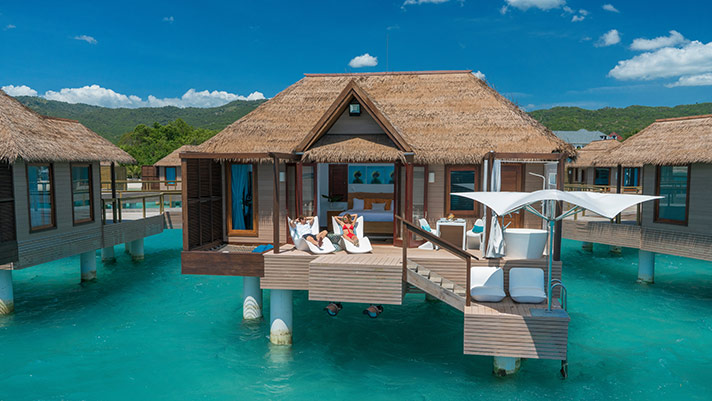 Sandals boasts 16 luxurious adults-only resorts in the Caribbean, all located next to white sandy beaches and pristine turquoise waters. With their line of all-inclusive resorts, you'll enjoy unlimited food and drinks.

Take advantage of the many activities available to you at these breathtaking resorts. Try your hand at water sports like the PADI® Discover Scuba Diving Experience, go kayaking, or sail on a Hobie Cat. There's beach volleyball, bocce ball, tennis, and even golf also at select resorts. As the sun sets, enjoy one of the themed nights or choose from other entertainment options.

Some all-inclusive Sandals resorts can be found in quieter locales while others are adjacent to local spots buzzing with nightlife, so consider what you want to experience on your getaway.

For newlyweds, Love Nest Butler Suites™ are perfect for honeymoons and offer spacious accommodations. Most of these suites also include a private outdoor Tranquility Soaking Tub™ for a serene soak.

Start planning your Sandals Resort stay here and contact Avoya Travel for the best deals.

3. DREAMS RESORTS & SPAS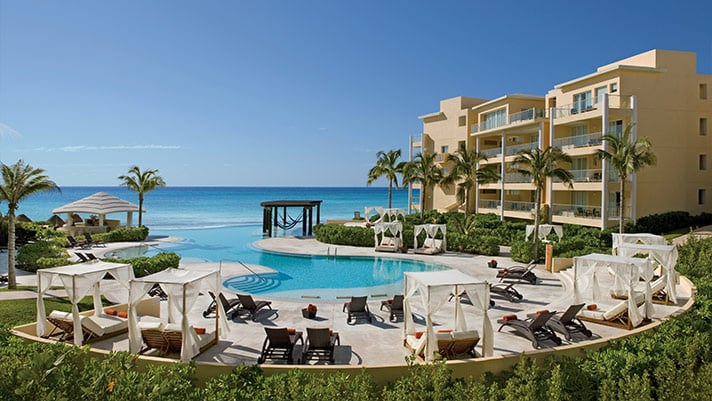 Dreams' all-inclusive resorts are located in Mexico, the Caribbean, Central America, and Europe. These family-friendly spots offer both Explorer's Club for kids and Core Zone for teens to keep your younger family members engaged with kid-friendly activities.

Depending on the resort you choose, kids can try their hand at a sandcastle competition or teens can climb up on the rock wall, and much more. Select a family-connecting suite or villa to keep everyone in your party together.

There are plenty of open-air spaces to relax and socialize in at each Dreams property. With their all-inclusive stays, you'll find amenities like free minibars, whirlpool tubs, and furnished terraces. Choose from an assortment of internationally inspired restaurants, dip your toes in one of the onsite pools, or learn a new skill at a free cooking class.

Discover the perfect Dreams Resorts & Spas escape today and call Avoya Travel here for the best deal.

4. SECRETS RESORTS & SPAS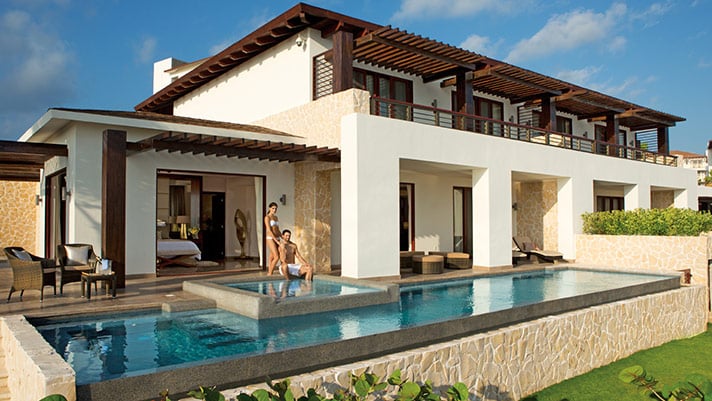 For adults-only fun, Secrets resorts span destinations in Central America, the Caribbean, and Spain. Select accommodations come with private swim-up pools, and the Unlimited-Luxury® package includes dining and drink options at upscale restaurants and bars, 24-hour room service, and a pool and beach wait service.

Take in ocean views by day and entertainment by night. After hours, dress up for one of the themed parties. For land-based activities, try a dance lesson or go on a bicycle tour. When you want to head out on the sea, you can kayak or snorkel.

At Secrets Playa Mujeres in Cancun, golf aficionados will enjoy the resort's very own 18-hole golf course. Choose your Secrets vacation based on what you want to experience. Secrets caters to couples looking for a romantic retreat and both singles and groups seeking a lively, festive atmosphere.

Find your secret place at a dreamy Secrets Resort & Spa here and call Avoya Travel for the best deals.

5. BREATHLESS RESORTS & SPAS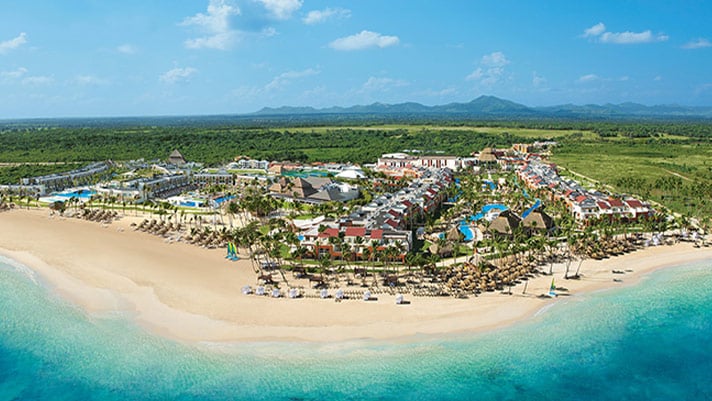 With destinations in Mexico, Jamaica, and the Dominican Republic, Breathless Unlimited-Luxury® all-inclusive resorts bring modern ambiance and entertainment front and center. These adults-only resorts are geared toward those seeking festive fun. Enjoy live music and dancing, costumed events, and even monthly themed parties.

Have a bash in May at "When In Rome," a toga-themed pool party, complete with wine tastings. Bring patriotic flair to your vacation in July with the "All American Summer," where you'll find beach barbecues and live bands aplenty.

Control the mood lighting in your spacious accommodation with an in-room tablet or dip your toes into a swim-up pool located off your room. There are unlimited dining and drink options and a pool and beach wait service too.

Start planning your Breathless Resort & Spa stay here and call Avoya Travel for the best deals. 

READY TO ESCAPE?
All-inclusive resorts bring you the very best in accommodations, amenities, and entertainment. Family-friendly resorts go to great lengths to ensure that everyone in your family has fun with special kid-themed spaces and activities. Adults-only resorts draw couples looking for a romantic escape as well as groups looking for lively entertainment and a festive atmosphere.

So, when you're ready to escape to an all-inclusive resort, 
call Avoya Travel for a seamless, stress-free vacation planning experience with the help of an Independent Travel Advisor.